You need to send a document over email urgently, but all you have in hand is its hard copy. The deadline is about to get over & you have no time. What would you do?
Well, don't make haste. Breathe deep, take out your smartphone from your pocket, and complete it in a few seconds.
Whether you want to scan documents, make a PPT or a pdf, vivo smartphone makes all of it possible without any third-party application. Sounds surprising? However, it won't be once you learn about these one tap-features available on your vivo smartphones.

vivo Funtouch OS has improved a lot with many user-friendly updates. One such is its camera.
Apart from creating videos & pictures, you can also use the camera as a scanner. There is a Doc option in the app using which you can convert images into the required file format. And the best part is that this mode eliminates the worries of shadow or pale light on the object. It also provides precision with a cut to cut edge selection.
And you don't even need to worry about details either. Our latest vivo V23 Series has best in class image sensors and pixel binning technology. So the only result will be sharp and detailed scanned copies.
Here's how you can scan doc using the camera app:
Open the camera app
Go to more options
Tap on Doc mode and click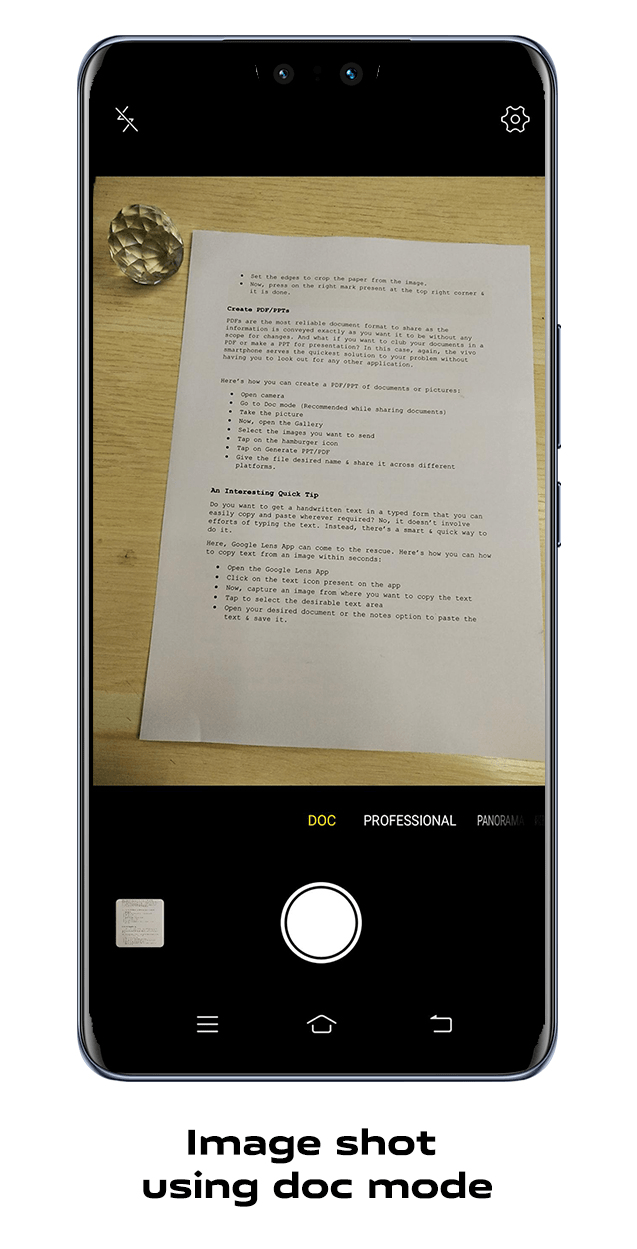 Well, not only the immediate document scan. If you want to crop paper from an existing picture, the latest vivo mobile phone can do that too. And when those images are captured with a high megapixel camera smartphone like vivo T1, you don't need to worry as clarity is a promise.
Here's how you can crop doc from an existing picture:
Open the required image in the gallery.
Go to edit option
Search for doc mode
Set the edges to crop the paper from the image.
Now, press on the right mark present at the top right corner & it is done.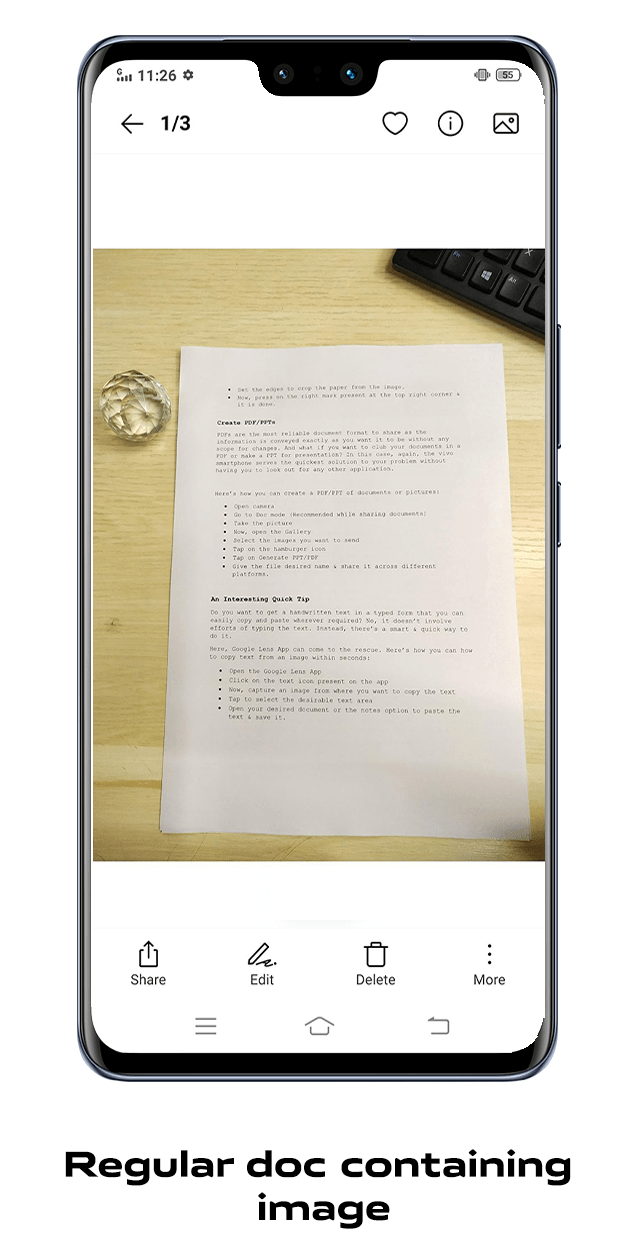 PDFs are the most reliable document format to share as the information is conveyed as you want it to be without giving any scope for changes. And what if you need to club your images in a PDF or make a PPT for presentation? In this case, again, the vivo smartphone serves the quickest solution to your problem without looking out for any other application.
Here's how you can create a PDF/PPT of documents or pictures:
Open camera
Go to Doc mode (Recommended while sharing documents)
Take the picture
Now, open the Gallery
Select the images you want to send
Tap on the hamburger icon
Tap on Generate PPT/PDF
Give the file desired name & share it across different platforms.