Isn't it exciting to see how whenever you want to ease off while playing video games, there are thousands of options, be it on mobile platforms or windows? But in a few years, more than playing, watching people play live games has become a surprising phenomenon. And this craze has paved a way for many new categories in most loved videos, players to become well paid as well as followed personalities & platforms as the juggernaut across the internet. Well, if you also want to follow this league of streaming sensation, then this article is for you all. But first things first, to do live streaming of a game, you do not need a high-end PC but, yes, a decent bandwidth internet & one interesting game installed on your smartphone.

Mobile streaming is the technique that helps you to share live your live gameplay videos using the streaming platform directly using your smartphones or tablets. This also enables people to share live footage of themselves playing the game & chat with viewers.
If you are not a gaming fan then this might not sound fun to you but watching streamed games has a unique hook for many reasons. Such as watching an amazing player can help you to watch & learn the tactics that can improve your gameplay. Also, watching an unedited game video can help you decide whether you should download/buy the game or not. Watching a streaming video brings you closer to people who share the same interest & connect with them.
So now let's have a look at the steps or the platforms from where you can start your first game streaming.

The best and the easiest way to stream online is to install an app & start the process over a user-friendly interface only for beginners.

This app can help you go live steam any mobile game to Twitch, YouTube, Twitter, and Facebook all simultaneously. This app lets you stream even the highest interface gaming application for free.
Features you get in the app are:
Turn on your face cam to give a real-time feel to your customers.
View chat messages from all your live stream social platforms in one place.
Build your fan base, learn tips and tricks, and find new friends to play with.
Hang out, chat and share stickers with top broadcasters and friends, no matter where they're watching
This app is easily available on Google Play & App store so that the operating system of your smartphone is not a barrier to streaming. The best part is that this app gives you the freedom to stream with its free and easy to use interface. Using this app, you can share or let's say broadcast your game on YouTube, Twitch & Mixer.
However, to use this app first you need to log in to your twitch account.
Features you get in the app:
You can select to stream your video or your screen with the easy option of swapping between front & rear cameras. This helps you show only what you are doing & make the streaming look more genuine.
User can also personalize their streaming with new mobile themes & overlays just as you like.
Make streaming easy with quick widgets like an alert box, event list, chatbox, donation ticket, etc. among many others.
The app also helps your streamlining going without losing viewers even when the mobile data gets disconnected.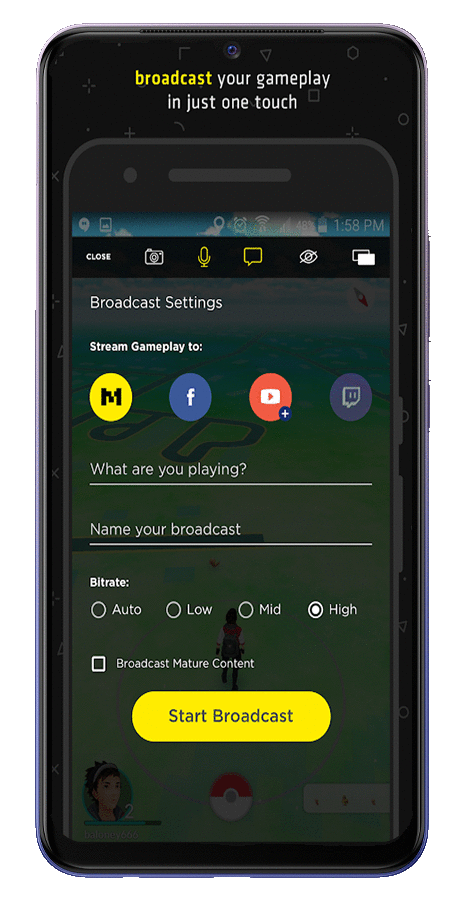 Well putting the fun aside, you also need to follow a few precautions while streaming the game online:
Secure your account with a strong password & enable two-factor authentication.
Buy or use apps downloaded from the trusted website only. Like Android users should stick to Google play, iPhone to Apple App store, and avoid side loading.
Avoid playing on public Wi-Fi as there's a risk of a fake hotspot that may intercept your data.
Keep your software up to date so that there are constant bug fixes and minimum freezing of your streaming game.
We are sure, many gaming enthusiasts will surely find this piece of information useful.