Whether you are an android smartphone user or an iOS user, Google storage is the preferred storage service for all of us. Whether you use it to empty your device storage or as an option of mobility; we all prefer to keep our important data like documents, pictures & videos on our cloud storage. The best part is that all of these can be accessed anywhere & whenever needed. And that is why it is a real struggle for all of us when this free storage space runs out of capacity.
The default storage of Google is 15GB & you have to pay INR130/- monthly for 100GB extra. So if you are among those who are running out of storage, you have landed on the right page. Whether your own any 256GB storage phones or not, here we will help you stay stress-free with extra google storage without paying a penny. So, continue reading about how you can do so.
Free Up Google Photos Space
When Google Photos auto sync on your device is on, every uploaded picture automatically takes up storage. If you are saving your pictures in original sizes, this is one of the reasons that tons of your cloud storage is filling up fast. You can free up space by converting them into high quality instead of keeping the original one. This option of Google photos compresses the image to 16MP & videos to 1080p without dithering the details. And that is why the done changes are not even noticeable. So, there is no compromise on the quality.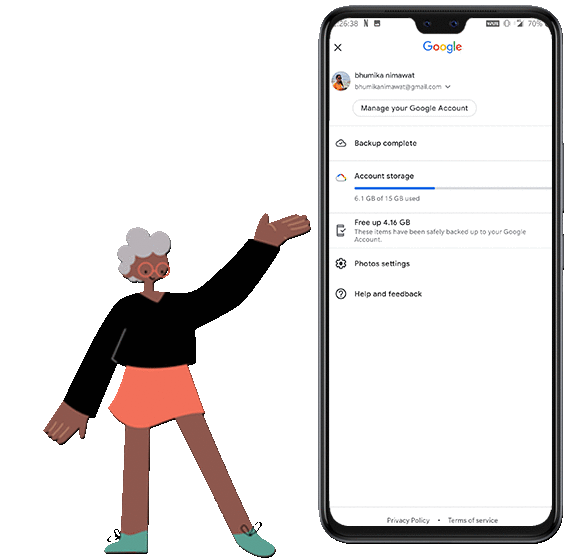 How To Compress Image in Google Photos:
At the top right, tap on your profile picture.
Select photos settings and then Back up & sync.
Select High quality. However, before you blindly confirm the steps, there will be a confirmation pop up. If there is any picture whose original quality you want to keep, then make sure to create a backup for it on any other hard drive or cloud space.
Google Photo High Quality v/s Original Quality
In high quality, if a picture is or larger than 16MP, it is compressed & resized to 16MP which is printable in sizes up to 24 inches x 16 inches. in other words, if a picture has 6.8 MB of file size in original quality, with high-quality compression it will change to 3.8 MB only.
Similarly, video higher than 1080p is resized to high-definition quality of 1080p. A video with 1080p or less will look close to the original.
As videos & photos are heavy files in most cases, compressed media makes unlimited free storage for you.
The only drawback or the limitation is that if you upload a raw media file with high-quality compression, the details lost in compression might disappoint you. So, the cloud space of google photos is a good option for you if you want to keep safe smartphone clicked photographs.
Delete Gmail Trash
Textual data don't take up a lot of space, be it messages or emails, but the other things they contain surely do. For a person who does not check his email regularly, there would be multiple old emails in the inbox with irrelevant attachments and unrequired subscription mails.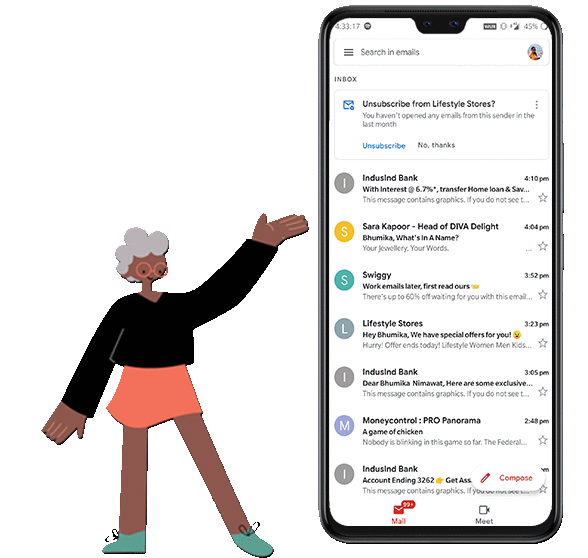 Here is how you can clean the Gmail Inbox:
Open Gmail & type has: attachment larger:10M in the search box.
All mails with such attachments will come under the list.
Now review them & delete the unwanted ones. However, if you want to keep the mail, then forward it to yourself & remove the attachment manually before deleting the mail.
Also, do not forget to check and empty the unattended emails lying in the Spam and Trash folder.
Dump Extra Drive Data
Every android user has their google account. And all along with this, as the user installs & accesses multiple applications on the device using the same information, Google manages this info. And to store this data, Google drive is commonplace.
Well, you can get rid of space sulking files by following these steps:
Open the link: drive.google.com/drive/u/0/quota
If logged in the browser, the page will display all the files on the drive sorted with the highest items at the top & lowest at the bottom.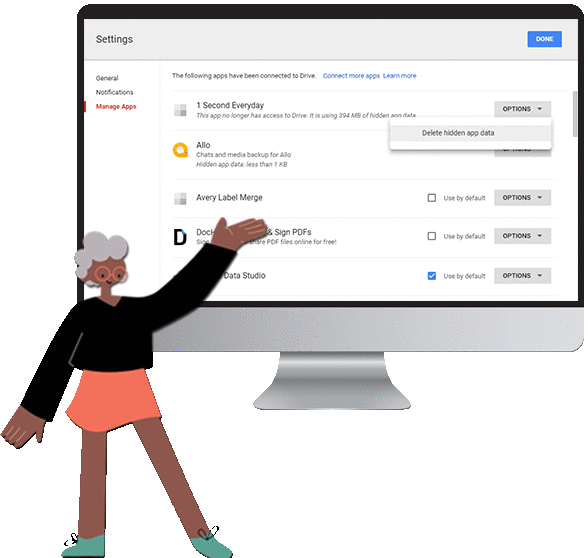 Check out the folders/files occupying most space & delete things that you don't need anymore.
Now, open the option to Manage Apps from Settings. Icon present at the top right corner of the page.
Now all the apps associated with the account will be listed here. Any app for which you find the note of having hidden data, tap on the options button & select Delete Hidden App Data.
Once deleted from the listing, open the trash folder of your drive & click on the Empty Trash.
We are sure these tips will help you get rid of all the unwanted data present on your cloud storage and make you feel liberating. Let us know in the comment section if you have any got any other tips for us too.