Podcast listening has increased than ever before. According to PWC, in June 2019, the Indian podcast listener base was at 40 million by end of 2018, which now has risen by 58%. On the other hand, if Prime Minister Narendra Modi's 'Mann Ki Baat' is considered as a podcast, this baseline instantly moves to 600 million listeners. On International Podcast Day i.e 30th September; we have decided to give information about what podcasts are, its benefits & how can you start a podcast and make money?
Well, before we start, those who don't know what are podcasts, it's a series of audio information (majorly as video podcasts too exist) focused on a theme that can be continued to multiple episodes as well. One can listen to them anywhere and anytime without requiring complete attention. Now that you know, keep reading to dig more information about this exciting medium:

The beauty of a podcast is the link it creates between the creator & listener and serves both sides pretty well. They are easy to consume on the go, be it in the car, at the gym, and even at work. Also, for being audio form, unlike written blog audience engages more with an instant affinity. That is why podcasts are a great way to build a connection.
But, even after having great potential the podcast industry is a lot unexplored. This proffers a marvelous opportunity to appeal to the new audience & make profits. For the brands & business, podcasts can generate value similar to creating content. Also, to start podcasts one doesn't need to be an established writer or have a blog. That is why in context to contemporary terms, podcasts are acting as information economy because of its supply & demand model.
Also, the level of engagement while listening to podcasts is so high that people even listen to the ads closely. According to the report of Mid Roll Advertising, 61% of listeners purchased a product or service after hearing it advertised on a podcast.
Lastly, podcasts are free to create & listen. Thus, there is no scope for the loss too.
A fun fact: If you go on to Google, in the pool of information over every 750 blogs there is only one podcast available.

The answer to how to create a podcast is very simple but often disguised due to personal understanding & starting without a predefined format. To make sure that the audience's interest doesn't break the spell, we suggest following these steps of creating a podcast content:
Commit To A Theme
Starting a successful podcast can't get along with a casual throw. A podcast should be focused & narrowed down to talk about its depth. You must decide a topic that is least covered & can attract attention. Or starting with a contemporary theme can work best.
Do The Check
Once that you have planned, check about the uniqueness of your topic & whether similar podcasts are available for the audience or not. Though the same ideas can be existing already, make sure that you have a different approach & enough to talk about it.
Decide The Format
Formatting plays a major role in bringing the audience. Learning how to set the premise, how to get creative with the topic, determining how long to go with it & at last, framing it in a structure are the key components of this plan.

Creativity can flow in the direction you want & here are some masterplans to do so:
Interview style
Here you can team up with another person & build your podcast premises by asking questions. These podcasts are more like radio interviews where knowledge possessed by others adds relevancy to your topic.
Solo
Just as the name suggests, this style is all yours. You are a speaker and information provider and validates all the experience, facts, tips, etc shared as the narration escalates.
More Than One Host
No to be confused with the interview, here 2 or more hosts talks & share their knowledge about the decided topic. This style resembles commentary done in the cricket matches.
Narrative/Storytelling
This style often befits when you have an anecdotal or third-person experience to share with the listeners. Also, this works great for publishers or writers who want to share their fiction or non-fiction artwork virtually.

Microphone?
Yes; it is so because even though smartphones support recording, the audio may not be clear. So, you will need to make an investment for headphones with a good in-built microphone or a dedicated microphone for noise cancellation & professional sound quality.
Foam Ball?
No; foam ball is to reduce the breath noise as you speak & deliver filtered voice. However, you can already do it by placing your microphone slightly away from your mouth. This way the mic will capture a louder voice while canceling lower frequency sounds & other noises.
Software?
Yes; because it's an acceptable fact that one can't cover the entire topic in a go without errors. So an audio recording software gives the scope to mix, edit & add extra effects in required sections. Well, there is no compulsion of high-end software; as even a free app can deliver a good final edit.

Publishing your podcasts on the right platform is as important as choosing the topic. Reaching to your audience is tricky & doing so on the best platforms was even trickier. But, the great news is now, it is not! Sharing your audio content is very easy & the best ones for the purpose are Spotify, Google Podcast & iTunes (Apple Podcasts).
Now, coming to the publishing podcast you can either share your podcasts individually on these platforms or go ahead with us & learn how to publish the podcast on Google Podcasts, Spotify, Apple Podcasts, Breaker, Castbox, Overcast, Pocket Casts, RadioPublic & Tune In; all at once.
First, Let's Create One!
Step 1: Download & create your account on the 'Anchor' app. Existing Spotify users can log in from the same account.
Step 2: Proceed further by selecting the purpose 'I want to make a new podcast'.
Step 3: Tap on the record icon for creating a podcast instantly. At this step, you can also add background music to your audio. And press on the save icon.
OR
If you have recorded audio, go to the library & import it from your internal storage. Users can add background music at this step too.
Step 4: Give a title to your audio & tap on the option of 'Add recording to the episode'.
Step 5: You can also edit the audio with options like cutting a few seconds & play to the final draft. (if required)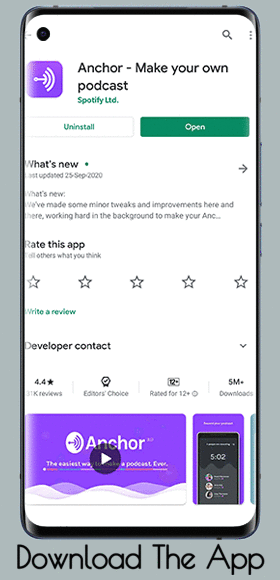 Let's Process To Publishing!
Step 6: Now tap on the 'Publish Now' Icon. Note that all the audio segments present in the list will be published as an episode for a season. (You can add more episodes in the same season later on too)
Step 7: Give a name to your podcast & add its description.
Step 8: Add a cover photo to it by either selecting an image available on the platform or uploading one from your gallery. Thereafter, you can add text to it & edit its appearance too.
Step 9: Select the category & language of your podcast applicable as per its content. (Do not choose random options here as this will improve discoverability of your podcast to the audience)
Step 10: Tap on the 'Publish my podcast' option.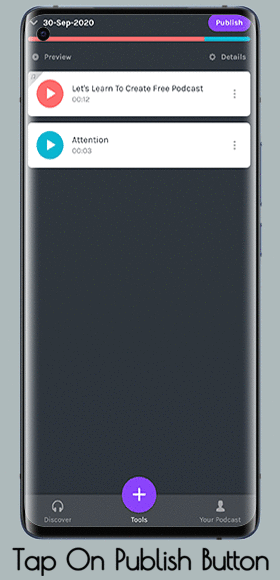 We hope that this blog has helped you gain all the information needed to start a podcast. You can also leave your suggestions in the comment section below. If you've found this helpful hit the like button & stay tuned with us for more such articles.